Interview with Moderna CEO Stephane Bancel
On May 18th, Moderna announced early clinical trial results on its COVID-19 vaccine.
Last week, I wrote about what to make of that data.
At NewsPicks, we had an opportunity to interview Moderna's CEO Stephane Bancel.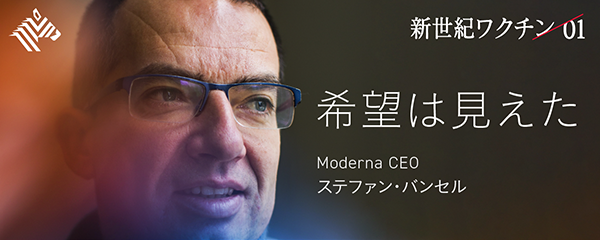 Edited by Jun Morikawa, Design by Tomoka Kunihiro
This week, let me give you a summary of his response to the question we had about the vaccine development.
First, a quick recap:
WHAT MODERNA SAYS ABOUT THE INTERIM PHASE 1 RESULTS
Safety
Moderna said the vaccine was "generally safe and well-tolerated, " as all adverse events have been "transient and self-resolving".
Efficacy
The vaccination elicited neutralizing antibodies in all eight of the participants. (*The data was only available for the first four participants in each of the 25 µg and 100 µg dose level cohorts.)
Neutralizing antibodies are thought to give protection against the virus.
The levels of neutralizing antibodies at day 43 (2 weeks after the second dose) were at or above levels generally seen in convalescent sera (blood samples from people who have recovered from COVID-19).
QUESTIONS FOR BANCEL
Here are the main questions we had about their vaccine development, followed by his answers.
What does Moderna make of the results?
The data that we released is interim phase 1 data, so it's early. But you start to get a good sense of whether you can be optimistic or not.
I am cautiously optimistic. In vaccines, the most important thing is neutralizing antibodies: antibodies that will bind to a part of a virus that will prevent the virus from replication.
What is important about last week is, we saw it in the first four people at the low dose of 25 microgram, the first four people of a medium dose, they all had neutralizing antibodies.
Why do we only have data from 8 people out of 45?
Mainly for two reasons. First, neutralizing assaying takes a lot of time. Secondly, by design we pause the study after dosing a few people, in our case four, to ensure safety.
For phase 2, we got the green light from the FDA on May 6th. 600 people will participate.
Typical of vaccine, you do tens of people for phase 1. Then in phase 2 is hundreds. And phase 3 is thousands of people.
We plan to start phase 3 in July. We are currently analyzing with FDA the protocol.
If approved, can you manufacture for the whole population?
Not one company in the world is able to do all the vaccines for the planet.
This is why I've said publicly many times, I sincerely hope that many companies get the vaccine approved.
Moderna has a plant in Norwood Massachusetts, which can make around 100 million doses per year. However, this is not enough for the pandemic.
So my team and I searched for ways to make the capacity 10x bigger.
We have no time to build a new factory, so we need to use a factory already existing for medicines. We talked to all the biggest pharmaceutical companies.
We ended up with a partnership with Lonza, because Lonza had enough space available now for us to buy a new machine, to hire people, train them, transfer the technology from our plant, and start making vaccine then.
We expect to start making the first batches in July, and aim to manufacture up to 1 billion doses per year.
Some executives, including you, sold stocks after releasing the interim results.
We want to make sure that we do things very properly. So if you look at the executives of the company, everybody uses plans. Those plans were set up a long time ago.
I can tell you about my plan. My plan was set up 18 months ago in December, 2018. So it's basically a little sell every 10 days, or 20 days, of little quantity.
I have been at the company for a long time. I still have 99% of my wealth in the company stock. So it is just kind of normal business, nothing different.
---
You can read the whole interview here on NewsPicks (Japanese).
What I find most interesting is the manufacturing partnerships with pharmaceutical companies.
mRNA vaccines are fairly new technology, and there are none approved yet.
It is encouraging if big pharma can utilize existing factories, buy some equipment, get recipes from Moderna, and help with the manufacturing.
Stephane said they plan to announce something about Japan in a few weeks. I will follow up when it comes out.
Get a weekly recap on the future of health